Call: 646-980-3788 (country code +1)

30-day money back guarantee.

If this software does not work for you then Boachsoft doesn't deserve your money.
Boachsoft is the leading supplier of software to the rental industry and shops. If you are looking for Tools and equipment rental software, audio visual rental software, Tent and event Rental or point-of-sale (POS) then you have come to the right place. Boachsoft xRental Smartmanager is an advanced Windows based rental solution. This software is very easy to use, inexpensive and user friendly. Boachsoft has won numerous awards and gained world-wide recognition with our products. Our robust and proven solutions with hundreds of users worldwide is all you need to manage your rental outlet.
We give you lasting value for your hard earned money. Regardless of what you rent out or sell our solutions would meet your needs. The advantage of this desktop based based version over cloud or hosted services is that you have total control of your data. What's more you can have several terminals in the networked version sharing a single database. You can hook it up to your website. With the cutting edge tools we provide your business would be very efficient
New**** Boachsoft xRental Smartmanager 2013
click to enlarge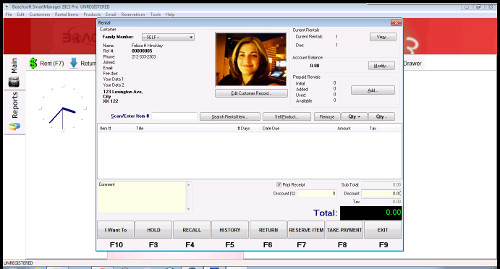 Who should use Boachsoft xRental Smartmanager?
Boachsoft's smartmanager is designed for anybody looking for tools and equipment rental software, audio visual rental software, Tent and event Rental software, construction equipment rental software, lift rental software or even party rental software. If you are already using another software you can easily migrate using our data import wizard. A Networked (Client/Server) version of this software is also available.
Features of tools and equipment rental software....
Boachsoft also makes Video rental software, dvd rental software
The best desktop based video rental software you can find.